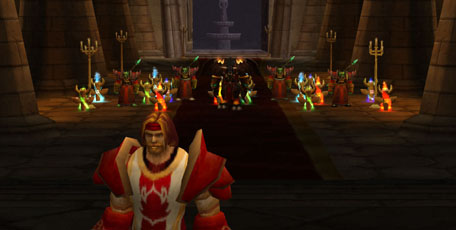 I decided it was time we headed into
Scarlet Monestary
. Home of the infamous
Scarlet Crusade
. (Excellent history by the way. Worth the read.)
I tried to take my boys there at level 20, but didn't have much success with my 70 Warrior. I found myself pulling large groups (Like I have so far in other instances) and being beat into the ground. I got frustrated and left, only to return again now that my kids are 33. I hoped they could keep my warrior healed this time. Turns out, they didn't have to.
The problem before, was that I was simply pulling too many at a time. Instead, I'd pull maybe 6-8, and quickly burn them down. This meant I hardly ever took damage, and never needed to stop. Before I knew it, I was averaging over 30k xp per hour with NO sleep xp! The Dings just kept coming.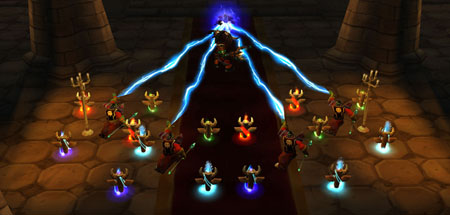 Sure, it was a blast tearing into
Scarlet Commander Mograine
with 4 Chain Lightnings, but it got boring. Very quickly. But thanks to a Tivo full of old Simpsons episodes, the time passed.
When you're in there that long, you end up collecting just about every blue you want. Before I knew it, each of my 4 Shaman had a
Triune Amulet
,
Whitemane's Chapeau
,
Aegis of the Scarlet Commander
, and my personal favorite (though pointless for an Elemental Shammie)
Mograine's Might
! Arguably one of the best looking 2h Maces in the game! Don't they look pimp on my boys?