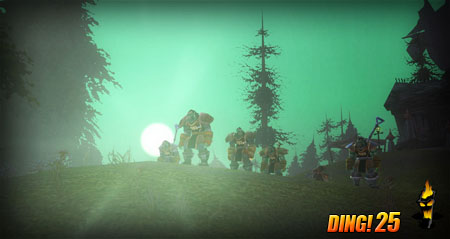 We're moving on up! This is starting to feel a bit more Galvanized. (see:
HomeStar Runner
) My boys hit 25 last night, and are currently sitting just under 26. I stopped power leveling them with Boom, and instead teamed them up with the 5th and last member of the group, my 46 Shaman, Pugh.
Last night I paid the $10 to have Pugh's name changed to Thunduh. So now he's matching his brothers.
I spent some time writing my first totem macros, so I now use one button to drop 15 totems. (3 hits) It took some time to get it just right, but I'm thrilled with the results. I can't wait to get them to 30 where they'll get their Air Totem, and I can finally live up to the name of the guild.... Twenty Totems.
I'll try to post tonight with the details of my first Totem Macro.
Boom