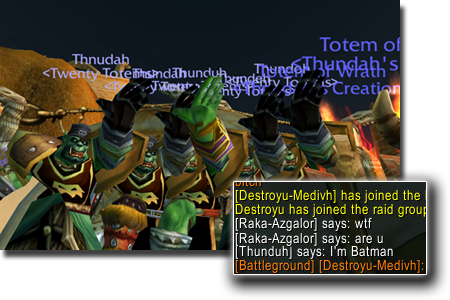 As you likely noticed in the previous post, I chose to move forward, and dinged into the 50s! (if you cheat, and
check the armory today
, you'll see my boys are already 51 and on their way to 52.)
Totem of Wrath
was totally worth it. Last night I took my boys to
Maraudon
, without Boom. Just the Shaman... and I TOTALED the place. Even the
Princess
, who is IMMUNE to Nature Damage. I'll write about that later this week.
I also used the ToW to take the kids to the
Temple of Atal'Hakkar
. (aka: The Sunken Temple) I tried to complete the level 50 Shaman quest, at level 50, without a tank or healer. I'll tell you about that too, in another post.
WOOT!
Boom